Regular price
$0.00 USD
Sale price
$20.00 USD
Unit price
per
Sale
Sold out
Handmade 
Shelf Life- 12 Months
FOR ALL HAIR TYPES AND SAFE FOR CHILDREN.
PLEASE STORE IT IN A COOL PLACE AWAY FROM DIRECT SUNLIGHT.
 If you're looking for a nature-made, amazing, light-weight balm that will help you grow long, healthy hair then this is the product for you. This buttery soft balm contains just the right amount of healthy ingredients combined to stimulate the follicles for improved, long-lasting hair growth. Healthy and beautiful hair starts with a healthy scalp. Therefore, it's extremely important to take great care of your scalp. Here is what you get in this amazing product: -
Hemp Seed Oil: - One of the benefits of hemp oil for hair is its moisturizing properties. Hemp oil will prevent water loss and inject moisture into the hair and scalp, it also helps to enhance the growth of hair.
This product is packed with Omega-3, Omega-6, and Omega-9 fatty acids, which are extremely helpful in stimulating hair growth.
Olive Oil: - Olive oil's vitamins and nutrients may help make hair strands thicker, which gives the appearance of a fuller head of hair.
INSTRUCTIONS FOR USE: A little of this balm goes a long way. To use the balm, we recommend that you part the hair in sections and apply a small amount to your scalp row by row. The balm can be applied while hair is wet or dry hair; We also recommend that you leave it in and allow it to absorb into your scalp. This lightweight, non-greasy hair balm is great for all hair types including Dreadlocks. Use daily and allow this balm to soften, seal and repair dry, brittle, and damaged hair. 
INGREDIENTS: Grapeseed oil, olive oil, spinach oil, kale, Hemp, peppermint, and vitamin E.
Disclaimer: PLEASE READ THE INSTRUCTIONS AND ALWAYS DO THE 24-HOUR SKIN TEST FOR ALLERGIES. If irritation occurs, discontinue use. Some hair products may cause an allergic reaction based on the ingredients. If an allergic reaction occurs, SHAKIM CREATION BEAUTY SUPPLY will not be liable or responsible for illness or allergic reaction. 
View full details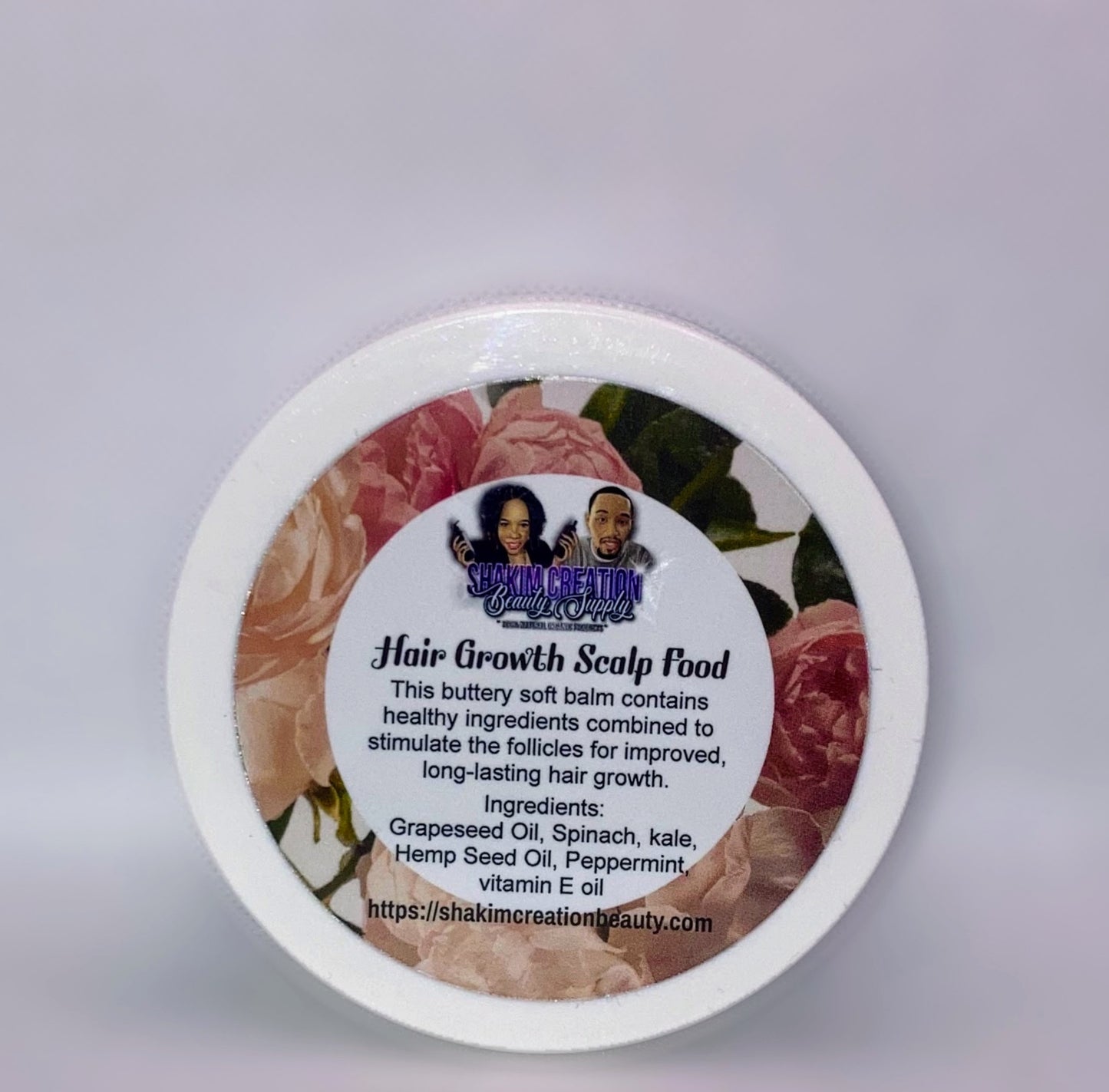 GREAT PRODUCT!
This oil is very light and it smells really good! I've been using it for a week and I can tell the difference in my scalp. I Will be buying again.
GREAT PRODUCT!
I love this grease! I have been using it for about 2 months now...I love that it's very light but it also gives my hair a great shine. I wear a protective style which is mostly crochet braids and it does bring my scalp to life when I use it. I use this grease about twice a week along with Sharon's growth oil ...These two products together are amazing on my hair!